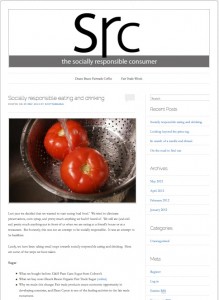 Are you so over the numbered list blog post? "Five ways to do this". . . "Ten important things to know about that" . . . With social media best practices, the winds-of-change shift in seasons the way fashion follows taste trends. It's not a capricious process, but it is one certainly influenced by the vagaries of the social and cultural environment. I'm on the edge of my seat for this one to blow on by. Yes, it gets great SEO. Yes, everyone's looking for the easy, instructive one-minute read that solves the prickliest issues. But numbered lists are boring, uninspired and un inspiring. How can a ho-hum "how-to" article motivate? Then I came across this little gem that puts a creative and appealing spin on the numbered list blog post.
Besides being a really pretty WordPress blog, this Socially Responsible Consumer post tells a tale of personal advocacy in which the "how-to" carries the reader through a mini-series of time travel. After a heart-warming and compelling introduction about personal shopping and eating habits, it reports:  "Lately, we have been taking small steps towards socially responsible eating and drinking.  Here are some of the steps we have taken:"
And then gets right to the points:
Tomatoes
What we bought before: The cheapest tomatoes at Coborn's
What we buy now: Bubbas tomatoes
Why we made this change: Bubbas tomatoes are locally grown and competitively priced.  Eating locally grown foods reduces our carbon footprint.
Sugar
What we bought before: C&H Pure Cane Sugar from Coborn's
What we buy now: Dean's Beans Organic Fair Trade Sugar (online)
Why we made this change: Fair trade products create economic opportunity in developing countries, and Dean Cycon is one of the leading activists in the fair trade movement.
It's real. It's simple. It's a story. I think the use of personal pronouns in the listed items brings this message home for me. How about you? Does this not make you want to write more stories and fewer same-old numbered list posts?