Stability for someone living with mental illness comes from the little things. Routine. Sleep. Diet. Socializing. So, how do you ask a community of folks diagnosed with mental illness to trust you when you're about to change their healthcare coverage and delivery model? (Even if it's for the better.) Ask their peers for some help.
We invited real, honest-to-goodness people to use their own words to explain why integrated healthcare worked so well for them. Good, old-fashioned, unscripted stories turned a lot of scary medical jargon into something real and believable. Here are a few ways I helped bring those stories to life:
Storytelling
Stories became rich content for social media posts, blog posts, and public awareness campaigns. Hover your cursor over the middle of the screen below. Click on "full screen." Then digitally turn the pages!
---
Video
Video stories posted on website and social media channels
---
Website Redesign
Phase 1
People-centered content for people-centered care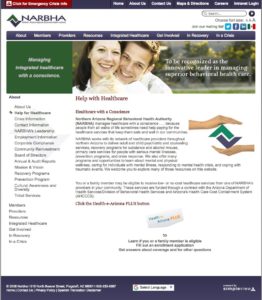 Graphics, video, and stories representing families, diversity of races, seniors, veterans, LGBTQ populations served by the system of care. Content simplifies concepts and introduces new delivery of integrated healthcare.
Phase 2
Better care, better brand

---
Research-based Strategy
Arizona's first health information survey
How do patients learn about health topics and healthcare issues? Before launching a communications plan aimed at changing health behaviors, we implemented a pilot research project to learn how members prefer to receive health information. Results of that survey informed a generalized survey among all members and the general public. It was Arizona's first.
---
Comprehensive Plan
Evidence-based  plan for internal and external communications supporting a merger and transition to integrated healthcare model. Submitted  for state department of behavioral health services approval
---
News Writing