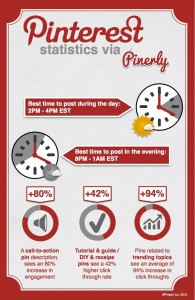 Clearly, among the many changes that have reshaped popular social media channels such as Facebook and Google+ in the past year, the most prominent one seems to have been enforced by fans and followers themselves. After growing vast networks of connections and "liking" hundreds of branded pages or causes, social media users became so inundated with posts, they started spending more time skimming over the text to help them keep up with their feeds. Eye-catching visual content now rules the social web.
Most web-savvy marketers are familiar with the 2008 study by Jakob Nielsen, a pioneer in the field of usability, which found users read only 20% of text online. Mind you, that was four years ago, when Myspace was a leader and Facebook and Twitter were the darlings flirting with social networkers' attention. I couldn't find more recent stats, but now with more than 200 social networking sites – and those are just the popular ones – it's safe to say that number has dipped precipitously.
The newest kid on the social media block, Pinterest, took this text-attention deficit trend to the bank and created a social media platform that asks little of users in terms of reading. Pinterest is all about the visual. Users revel in browsing and skimming. If you're thinking that Pinterest is all just fashion shots and food porn and its People Magazine effect is irrelevant to your nonprofit's or brand's social strategy, brace yourself: Pinterest is now the third largest social network in the U.S.. Last August, Time Magazine named it one of the "50 Best Websites of 2011."
Hello Timeline! Quick Draw, Google+!
So, did anyone notice what happened to Facebook and Google+ once the fresh face of social media pinned down such a big share of the market?
You got it – more room for bigger photos. Hello "Timeline." Quick draw, Google+. What's a social media communicator to do? Recalling that frequent change is the rule rather than the exception in our world, it's best to look at this latest development as just another day at the office and get to work adjusting your strategy.
Here are some Pinterest best practices gleaned from one of my favorite social media sources, Nonprofit Orgs:
Pin for female browsers in Kansas, Missouri, Minnesota, and Mississippi – the most active states. Keep in mind that only 25% have earned a bachelor's or higher degree and the majority live off a household income of $25-75K.
Users visit Pinterest boards for visual pleasures, not bargains or promotions. Resist the temptation to promote or include "Donate Now" buttons.
Optimize your pins with your avatar and links to your website, blog, and social networking sites.
Create images of inspirational quotes and powerful stats. Check out Picnik and Pin A Quote. Upload to Facebook, Twitter and Google+ too!
Be generous with other organizations' content. Repin, like, and comment. It also spreads your avatar around on like-minded boards followed by fans you want to reach.
If your nonprofit offers products for sale, add a price in the description or insert a price banner on your pin.
Add hashtags to pins and comments to increase exposure of your nonprofit.
Tag other users in comments by using the "@" symbol.
Consider launching a "Pin for Good" fundraising campaign.
Build your boards slowly, but steadily over time. If possible, pin or repin 2-4 times daily spread throughout the day.
Finally, pin your own content, but only if it pulls up a good photo. To find your Pinterest voice, you are going to have to stretch beyond traditional marketing.
Download the Pinterest mobile app and add the Pinterest icon to your website, blog, e-newsletter, etc.